Our FullPower™ Linear PSUs and Distribution Systems are specifically designed to be used in large modular audio and synthesizer systems requiring a reliable high specification power system. The performance of any system is limited by the combination of both the PSU and power distribution it is based on. It is pointless to expect high quality audio running on a cheap switchmode psu or a wall wart, but it is also pointless to have a high grade PSU and then use it with a poor distribution system like long pcb buscards.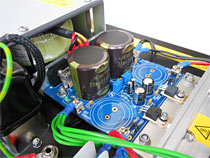 FullPower™ PSUs can deliver up to 2.0A on each rail continuously without dropping out of regulation and without the use of fan cooling. We recommend rear mounted 19″ panel configurations with ventilation above and below for convection cooling and our heavy duty, low impedance distribution systems. Alternatively PSUs may be built on 3U or 6U 84HP panels for integrating within our rack frames.

Our new FullPower™2 has many refinements for better thermal management and very low resistance paths and now may include a power monitoring option that indicates when the PSU is being run near its full capacity. PSUs are often run over their limits as a system is expanded and regulation is lost which causes intermittent problems that are difficult to trace. Current measurements are difficult to make with ordinary multimeters so we have a new Power Monitor option card which magnetically senses the currents in both rails with a voltage drop of <2mV. If either of the 110% LEDs light then you need another PSU--it's that simple.
All FullPower™2 PSUs are correctly rated and tested for a minimum guaranteed continuous full output current. You do not have to "run at 60%" because the rating is unachievable, you only have to know the maximum current that your system needs. Current ratings are per rail, not total, we do not massage figures to deceive the user.
Please read the Information page for a detailed look at how PSUs and power distribution effect system performance.
Buy Now | Specifications | Information | Prices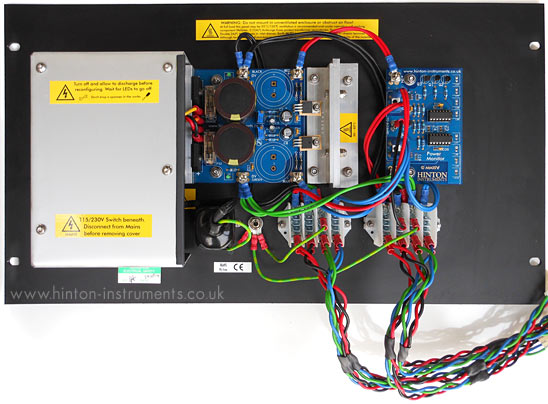 6U rack mounting ±12V @2.0A with Serge tails
Power supplies may be built with ±12V or ±15V output rails and an optional third rail, +5V, +9V, +24V, +48V or any other, all adjustable. These prices indicate the basic costs of commonly requested configurations not counting optional connectors and distribution.
The shipping weight of one PSU is about 3kgm, but we can send two or three for the same price because this is determined by the volumetric weight. A typical international shipment would cost about £30 to Europe and £60 to USA.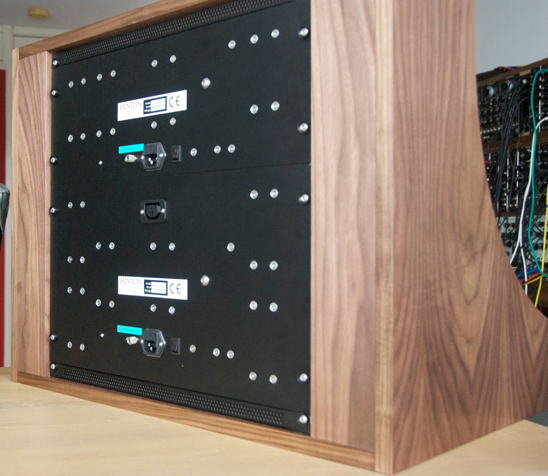 Two FullPower™ PSUs in a custom Eurorack case
The above system has a 2.0A and a 1.6A FullPower™ PSU and illustrates our recommended mounting on 19 inch rack bars with ventilation panels at the lowest and highest positions.
Please contact us to order.
(Contact us for details.)
Custom configured Eurocard Rack