Our wide range of skills in all aspects of analogue and digital hardware and embedded microprocessor control systems is available for the design and/or production of custom devices, hardware modifications, and complete product design.
A few examples of projects we have worked on in the past can be viewed below. Please contact us for more information.
Design Gallery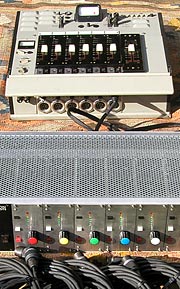 EAB V65C Valve Mixer Modification
Custom modification of a 1964 six into one mixer to have separate channel outputs. Each channel has a Telefunken EF86 based microphone amplifier which was taken via an umbilical cable to a rack of line drivers . A -20dB pad, phase inversion, mute, level control and metering were also added to the modules.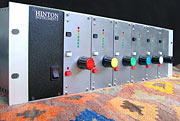 This is the first application of Hinton Instruments new 3U Eurocard based analogue signal processing modules and features Graham Hinton's CLEAR™ LED meter design covering a 42dB range with the clarity of a mechanical meter.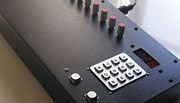 MIDI Knob Controller Box
Custom live stage unit designed for Maximo Park. Transmits Program Changes and eight Continuous Controllers. More information about custom MIDI hardware is available on the Custom MIDI Products page.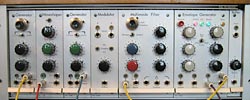 Modular Analogue Synthesizer Refurbishment
Although this synthesizer was built by Graham Hinton for the University of Edinburgh ten years before Hinton Instruments was started, we still gave this vintage synthesizer a complete overhaul.
All Hinton Instruments products have lifetime support.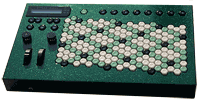 AXiS 192 MIDI Keyboard
Hardware & software design for C-thru Music. Mechanical and electronic production designs, pcb layout, custom chip design and full software implementation.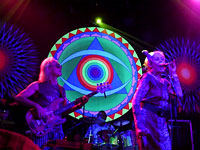 Custom Voice Processor
Hand controlled effects send for live stage use; designed for Gilli Smyth of Gong.
Some of our other projects have included:
Custom MIDI processing devices for Peter Gabriel.
Hardware and custom IC designs for motionworks motionworker and R2P2.
MIDI software for Amek Mozart. Hardware and software design for Amek MICE.
Design, microprocessor boards and software for Real World Automated Send Matrix.
Custom status computer and monitor extension for 96 channel SSL console at Real World Studios.