Busbars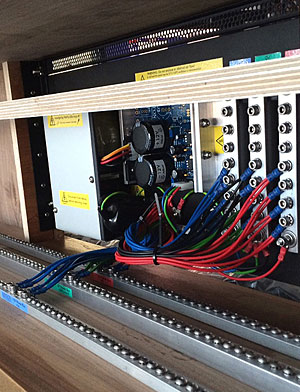 Busbars are absolutely the best way to distribute power over large modular systems. They have a resistance in the order of microohms which is orders of magnitude less than what can be achieved with printed circuit boards. It is also important to keep the resistance of the supply cables as low as possible (we recommend less than 10 milliohms) because this is where common impedance coupling occurs. Therefore cables should be as short and heavy as possible and the ideal place for positioning busbars is right in front of the PSU. Conversely, external PSUs with longer cables are non-ideal and will degrade the overall system performance.
Multiple PSU systems should have a busbar per rail per PSU, but a single common 0V bar. This may be implemented as one piece or by bolting another busbar between two sets.
Busbars may be mounted directly on wooden case sides or bottoms or on metal 19" rear panels. They can also be integrated with rack frames so that the whole unit may be removed without disconnecting and unscrewing modules.
A 430mm/17" bar will fit across an 84HP space and have 36 cable positions, prices from £35 each. Longer bars up to 900mm can be fabricated, or even longer, but the carriage will be higher for lengths over 1m.
Module power cables are screwed to the bars with 4mm ring terminals and may have any connector needed at the module end and lengths up to 500mm. KK and other types used for most modular systems are £2 each, Euro 10- and 16- way connectors are £4 each.
Distribution Cards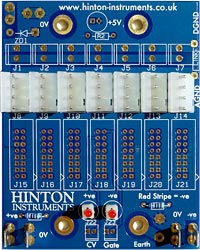 Our 7-way bus cards have 3 Oz copper and a groundplane with a maximum resistance of 18milliohm between terminals and connectors. If used for less than 500mA total load the maximum voltage drop will be less than 9mV.
Both 16 pin 0.1" boxed headers and 4+2-way KK 0.156" headers may be supplied in various combinations to cater for most modular systems. Any not directly compatible may use a KK adapter cable to the modules. Eurorack CV and Gate buses are taken to KK 0.1" headers.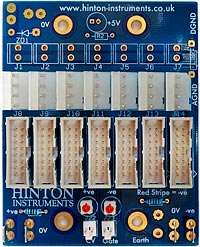 May be used for either ±12V or ±15V analogue rails plus either +5V or +48V rails. Mounting hardware and faston supply cables are included.
We can provide single or multiple distribution cards mounted and wired on 19" panels or rear panels in integrated 19" frames.
(Contact us for details.)